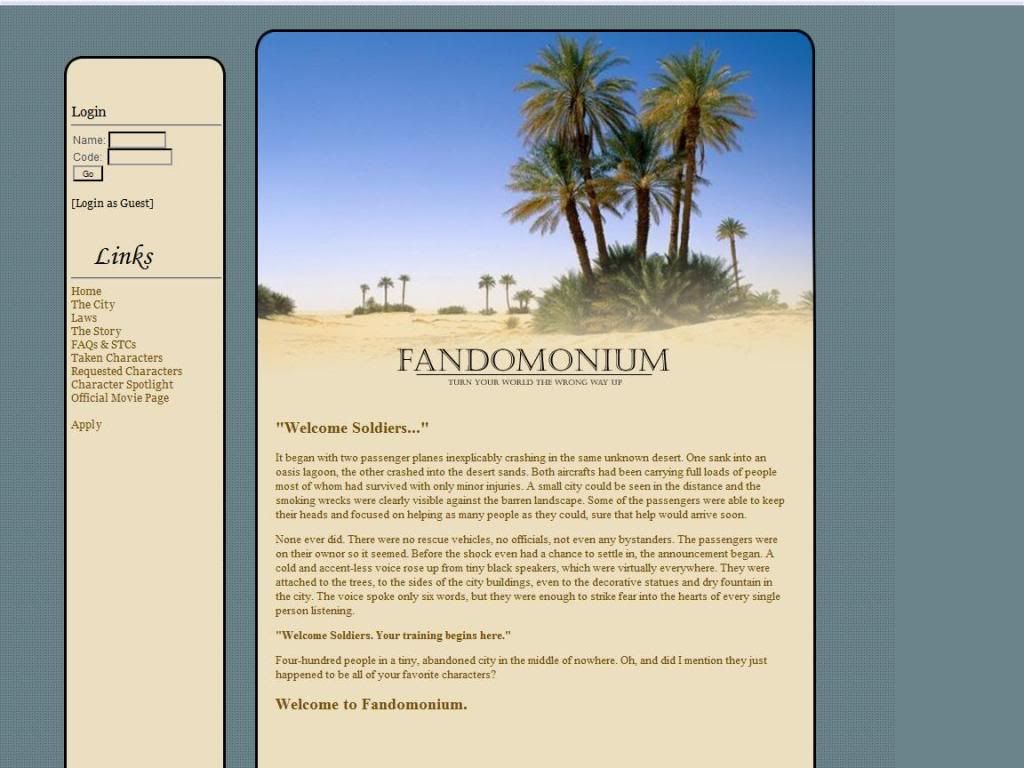 http://www.acornrack.com/desert/
The next site up on the list is a little site called Fandomonium, basically what you got here is an underlying plot and then... THROW EVERY CHARACTER YOU CAN THINK OF INTO IT! Yeah, that's pretty much it, simple and awesome all at the same time. Though I can already think of some inherent problems as I've read through the site somewhat we'll cross that bridge when we come to it!
The AD is written well, keeps the reader interested with odd tidbits here and there along with the required story on how this all came into being. There's also a trailer if you so wish to view them, I personally didn't.
Anyway, grab your forbidden long lost katanas, your utility belt and dodge that Kamehameha, because it's time to move onwards to the review!
First Impression:
There's a lot of trees here for a desert.... Overall the layout is fine, since it's in the desert it keeps with the theme and everything is kept simple.
The Public Area:
The Index page is just a part of the AD and again I have no problem with it, so we move on to the next section!
The City page is fine one small thing though is that I would have liked to have the map pop up in a new window. Or get a script to show/hide the map on the same page.
The Rules page, and now we cross the first bridge. The rules themselves are divided into IC and OoC rules but this is the rule that's a problem. "Any powers that allow a player to escape or call for help will be stripped..." So lets go through the great Superman's powers shall we?
Flying - Taken away
Freeze Breath - Taken away
Super Strength - Taken away (Can swim/row quickly and escape)
Heat Vision - Taken away (Can signal planes or whatnot)
X-ray Vision - Keep it!
Telescopic Vision - Taken away (Can see people coming to signal them)
Super Speed - Taken away (Running across the water is escaping!)
Super Breath - Taken away (I'm sure if there were enough odd waves, cyclones, etc someone would notice)
Hypnosis - Taken away (Could suggest people use their collective abilities in a way to help him escape)
Cellular Absorption - Keep it!

So, the almighty Superman can only peep at people and absorb... stuff. (Another good example might be any of the Z-Warriors from DBZ, they use their life energy to fly and such... you going to take away their life before they even get there?)
FAQ & STC's -I'm not sure how the whole random event thing will work in this kind of RP... to me it doesn't make much sense to have it.
The rest of the pages I don't consider content, so we move onto the next section!
The Application:
Pretty much the standard, however the boxes to fill in things are small. They take up maybe 35% of the space that's available. ROLEPLAY SAMPLE REQUIRED.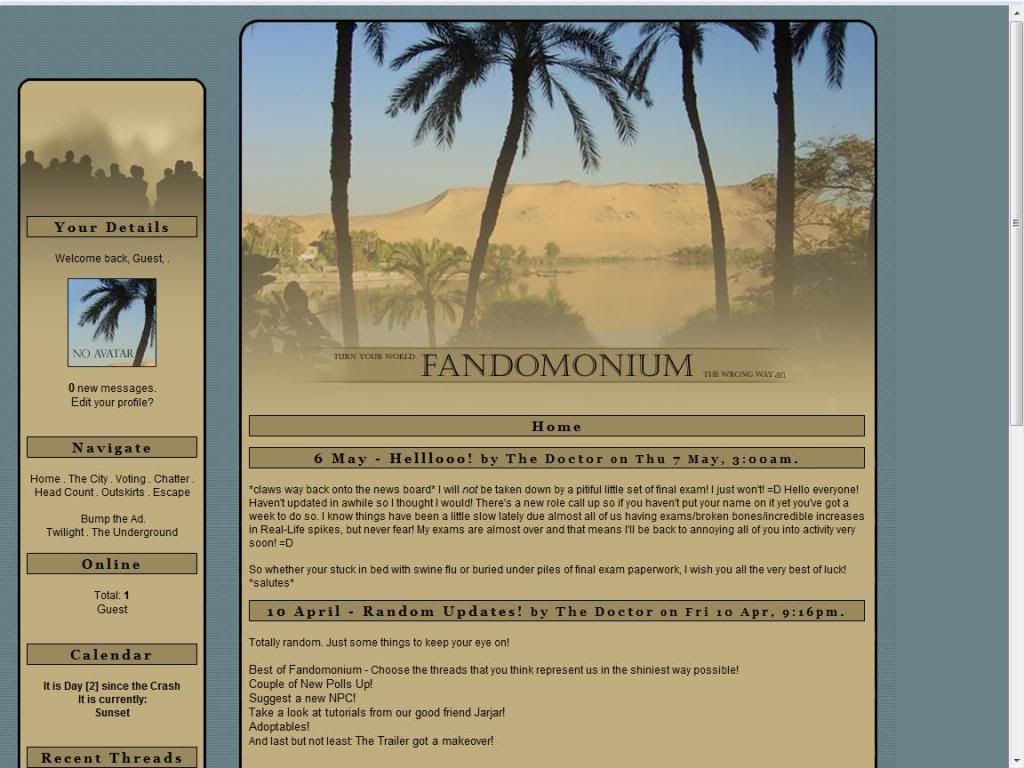 The Private Area:
Layout is slightly different with images but more or less the same. I didn't see any private pages to look at but I do have a small comment. There are various links outside the side and I would have liked if they opened new windows also.
Jello's 2nd Rule: When links go to outside links they should be in new windows! (Maybe I should eventually list all of these one day...)
Forums:
Decent amount of forums and description, for this site I'm torn between the hotlink thing here. I'd put them in for aesthetic reasons and just because you have the option to freely extend the forums without any navigation problems in the future. But I suppose it's not really neccessary in this situation.
Other:
The Member list page is pretty much the standard nowadays, avatar and the basic info.
The Member profiles are generally filled out nicely as well.
Roleplaying:
From what I read on the forums I categorize the roleplaying on this site to be Intermediate.
Rating:
6.8 out of 10
Overall the site is good, however while TMoW has the whole anime thing, in Fandomonium you can get some really REALLY odd pairings. Like Juggernaut and say... Steve Urkel dueling to the death! While it seems amusing it would be rather odd in the long run. With that said its weakness is also the strong point so Fandomonium is a double-edged sword and how its run will sway it one way or the other.
Reviewed by: The Jello Emperor